"I am elated that God inspired Stephanie Hughes to put such a document together that parallels physical anatomy with the spiritual Body of Christ. She has used her insight as an RN to make it clear through the scriptures what the Bible says regarding "Many members but one body," and I applaud her in this undertaking.
I now have greater insight to preach about the Body of Christ, as will all ministers who read this book. It will be a blessing to people in leadership positions and every person who reads it. God bless eternally."
George W. Price Jr, Presiding Prelate                 Original Churches of God [2002]
INTRODUCTION TO QUICKENED Made Alive Spirit Soul Body!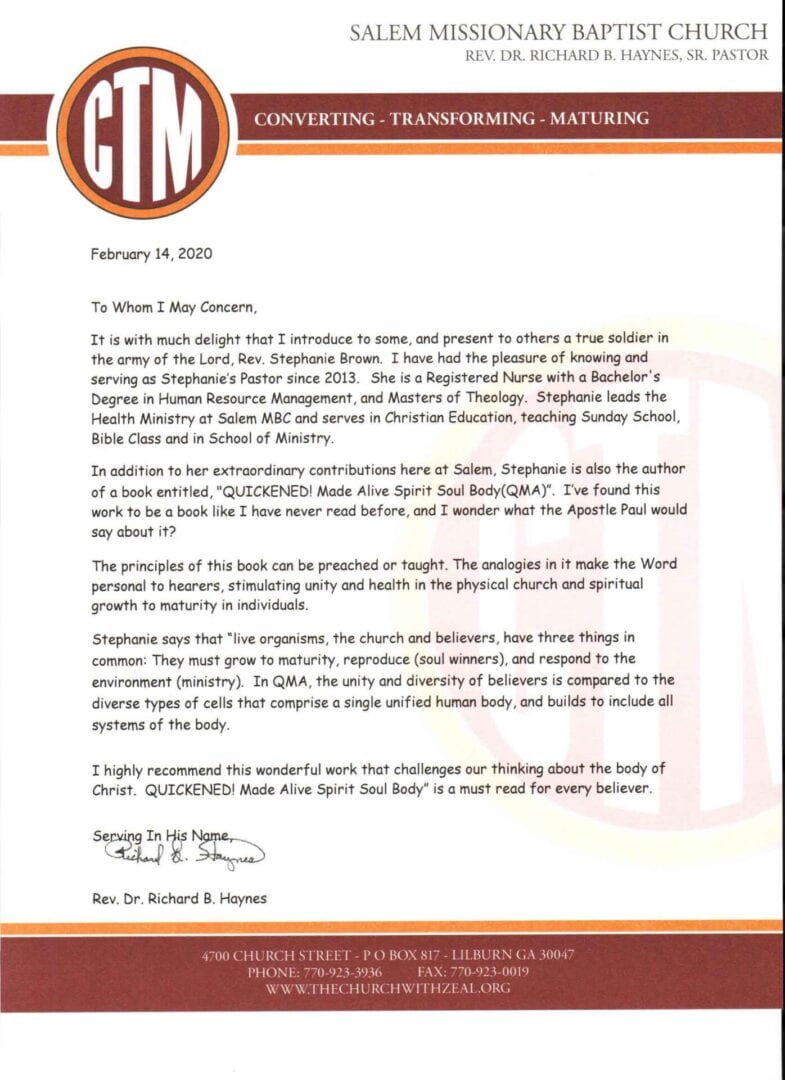 SEMINARS & WORKSHOPS can be planned based on your choice of a key message below, for your event:
Believers are diverse; the route to spiritual maturity
Influenced and positively changed by God's Holy Word.
Pastors serve, lead by the Word, ministers teachers, evangelists lend support
Winning the spiritual battle within
Leadership requires influence, which requires personal and organizational integrity.
Internal & External ministries. require preferring one another in the BOC
Perpetuating the Body of Christ via sober living, positive testimony, and soul winning.
Unity vs. uniform, liberty in the Body of Christ. Support missionaries worldwide.
Identify the characteristics and benefits of the Fruit of the Spirit. Value of harmony, respect honor in the Body of Christ
Pray and exhale cares; Believe and inhale His promises by mixing the Word with faith. And so, the inward man is renewed day by the bay.
Examine and re-examine yourself, whether you be in the faith, close the gap between your beliefs and behaviors, to walk worthy of your calling